August 11 to 18, 2018
Your Chairs for LOAS 1, 2018 were
Aram and Jennifer Khavari


The Khavari Family: Miles, Aram, Jenn & Mia
"Just Breathe"
---
Theme Speaker: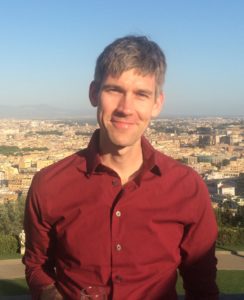 Sam Kean
Sam Kean is the New York Times bestselling author of Caesar's Last Breath, The Disappearing Spoon, The Dueling Neurosurgeons, and The Violinist's Thumb, all of which were named Amazon top science books of the year. The Disappearing Spoon was a runner-up for the Royal Society of London's book of the year for 2010, and The Violinist's Thumb and The Dueling Neurosurgeons were nominated for the PEN/E.O. Wilson award for literary science writing in 2013 and 2015, as well as the AAAS/Suburu prize. He is editing the 2018 edition of Best American Nature and Science Writing, and his work has appeared in The New Yorker, The Atlantic Monthly, the New York Times Magazine, Psychology Today, and Slate, among other publications, and he has been featured on NPR's "Radiolab," "Science Friday," "All Things Considered," and "Fresh Air." His books have been translated into seventeen languages around the world.
Sam's Twitter Handle: @sam_kean
Sam's Facebook Page: http://www.facebook.com/SamKeanBooks
---
Minister of the Week:
Rev. John Gibbons
First Parish of Bedford, UU
John Gibbons came to Bedford in 1990 after a decade as minister to the Unitarian Congregation in Mendon and Uxbridge, MA. Ordained in 1980, he is a graduate of the Harvard Divinity School and holds an undergraduate degree in religion and political science from Tufts University. He is married to Sue Baldauf, a family therapist; and they have one son, Eric. In previous lifetimes John was a public school teacher, union organizer, counselor at a halfway house for teenage girls, apprentice to a Mexican curandera (healer-woman), and a salesman of pansies and parsley.

He is very involved in Bedford and metropolitan Boston, a participant in interfaith roundtables, chaplain to the Bedford Minutemen, a founding member of the Greater Boston Interfaith Organization, the Tuckerman Coalition, and the Interfaith Alliance. He also participates actively in the life of the Unitarian Universalist Association, is past president of the UU Partner Church Council, former board chair of the Unitarian Universalist Service Committee, and is current chair of UUSC's Ministerial Leadership Network. First Parish Bedford was recognized as a "breakthrough congregation" in 2012 by the UUA.

John regards the church as the last, best and most improbable hope for humanity.
---
Registrar: Patti Emmons
---
Youth Coordinator:
Kristin Tlili
Floater:
Mark Povinelli
to come...
---
Name: Malaga Group
Ages: 0 to PreK
Meets at: Baby Barn
Leaders: Jackie Shapiro, Madeleine Emers
and

Terry Asselin

| | | |
| --- | --- | --- |
| | to come | |

Name: Lunging Group
Grades: K to 1st
Meets at: The Louisa's Barn
Leaders: Amy McAvoy & Steve Goodman
Name: Cedar Group
Grades: 2nd through 4th
Meets at: Lawrence Hall
Leaders: Ellie Emers & Anne McPherson
Name: Duck Group
Grades: 5th and 6th
Meets at: Parker
Leaders: Madeline Bergstrom & Hop Hopkins

Name: Smuttynose Group
Grades: 7th and 8th
Meets at: Brookfield
Leaders: David Garvoille & Hope Griffin-Ortiz

Name: Appledore Group
Grades: 9th through 12th
Meets at: Marshman
Leaders: Ken Keech & Andrew Kensley
---
WORKSHOPS
Week long classes offered daily

"WOULD YOU LIKE TO 'SING' ON A STAR?"
with Linnea Bardarson

Let's sing it out on Star Island. Songs – old and new – gospel, folk, spirituals, songs of social justice, a'capella and accompanied. Some will be easy, some more challenging. We'll have fun learning them. Seasoned chorister or "only-in-the-shower" types – this workshop is for everyone who loves to sing.

Everybody is a Star –
one big circle goin' round and round.
-Sly and the Family Stone

Linnea Bardarson leads a 20-voice choir at First Church and Parish, Dedham MA, where she has served as Music Director since 2007. A classical pianist by training, she fell in love the banjo a few years ago, and is at her happiest when making music with others.

Block Printing
with Rebecca Emerson

Block Printing is one of the oldest types of printmaking, and has been around for thousands of years. It can be done with with wood, linoleum, rubber, or many other materials, and you can print onto many surfaces as well; paper, wood, canvas and even fabric. The printed image will be the reverse of what is on the block and whatever surface is untouched will be what prints. Carving a block can take anywhere from an hour for a small piece, to several weeks or even months depending on the size and detail of the image. If only we had that much time… However, once you have the block you can use it hundreds or thousands of times.

All materials, including paper will be provided but you are encouraged to bring other items to print on, how great would a Toby Tie Dye look with a print!

YOGA
with John and Diana Vitarelli

A little stress here and there is inevitable, and actually can even be motivating… as long as we know how to let it go. If you are under chronic stress, physically, mentally, emotionally, financially, or otherwise, finding a stress management system is essential to your continued health and well-being. Practicing Yoga a is an antidote to negative stress. Yoga has been proven to reduce the production of cortisol and acts as a natural anti-inflammatory, increases flexibility and builds strength, and the breathing techniques allow the mind to find peace are become essential to the enjoyment of life as we age.

Vinyasa is a breath based yoga practice incorporating movement and static postures. A gradual evolution into the yoga practice will allow for an intelligent approach to the postures and space for deeper mental focus. Focus, breathing and movement sends the mind into a state of peaceful calm and ease.

Diana and John have been practicing yoga for decades. They own and operate Dhyana Yoga studios in Philadelphia where they teach classes, lead teacher training and work with private clients. Opened by Diana in 2002 Dhyana Yoga has been a leading school in the Vinyasa method of Yoga.

John and Diana along with their daughter Lorraine will join us for the week long "Just Breathe" conference

The Vocal - Physical Connection and Breath Awareness
with Tina and Phil Burns

This workshop focuses on the movement, relaxation and freedom required for the creative spirit to thrive through artistic expressions at all levels of performance and practice with particular attention to music, breathing and the voice. The breath is at the core of our ability to express ourselves freely both artistically and socially in creative environments and provides stability and support. Freedom of movement allows us to navigate comfort both on and off of the stage connecting the breath to the body and ultimately to the voice allowing for complete access to artistic communication in practice and performance. Physical exercises connected with breath management help to build the skills needed to navigate necessary vs unnecessary tensions required in performance practice. This work becomes the framework of support for our work as artists, musicians and teachers.

Small Basket Weaving
with Patti Emmons

Join us for an exciting and fun-filled workshop on basketry. Once you get the knack for basket weaving, it will be an excellent companion to porch rocking. In this workshop we will learn about the different types of baskets and why they were typically made.

You will be able to personalize your basket by either the size you make your basket and/or what color accent weavers you decide to use. Accent colors to choose from will be navy blue, hunter green, red, rust or smoke. There will be a minimal fee for each basket kit to cover the cost of materials. If you choose to participate in this workshop, you will need to bring the following items with you:

1. An old towel
2. A pair of scissors for cutting the reed
3. Either a small knitting needle or an awl to assist getting the weaving reeds through tight spaces
4. A small tape measure
5. About a dozen wooden clothespins
6. a small materials fee of $3.00-$10.00 will be collected at the workshop

Free Flow
The Sixth Workshop spot will be an "Afternoon Free Flow" with six different single-day workshops. The daily list is:

SUNDAY: TBD
MONDAY: Reading Group
with David Whitford
"When Things Go Missing" by Kathryn Schulz
Download the PDF HERE
TUESDAY: Whole Health Awareness with Laura And Hugh Silk
PLEASE CLICK HERE!
WEDNESDAY: UU women's activism from 1961-1986
with Emily Jones
THURSDAY: Finish you art projects or rehearse for the talent show
FRIDAY: PechaKucha Night:
Now in over 1,000 cities, was devised in Tokyo in February 2003 as an event for young designers to meet, network, and show their work in public.
https://www.pechakucha.org/

S T AR B U R S T S
Single, 45 Minute Mini-Workshops to fill in your days


SUNDAY: Intro to Ukulele
with Dawn Elane Reed
Bring your own or Dawn will have some for Auction!
MONDAY: Human Powered Water Skiing
with Will & Stephanie Ronco
MONDAY: Screen Printing
with Kurt & Val Nygren
Bring your Ti-Dyed shirts to print the official LOAS 1 Logo!
TUESDAY: Origami Boxes
with Sam Francis and Gail Henry
Turn those too-beautiful-to-toss greeting cards into delightful little boxes.
They'll still be too beautiful to toss, but now can serve an additional purpose.
Bring old cards (and calendar pages) or use some that Sam & Gail provide. Folding for fun and function—so fabulous!
WEDNESDAY: Guided meditation using breath awareness
with Bill Crane
THURSDAY: Health Care 101 - Revisited
with Katherine Schneider
FRIDAY: "It's Not About Grit Trauma, Inequality and the Power of Teaching"
with Steve Goodman
Website created by and maintained by Staris Consulting. © 2018 | Contact the LOAS Webmaster pertaining to the website
Special Thanks to Matt of svaha.com for Hosting this website